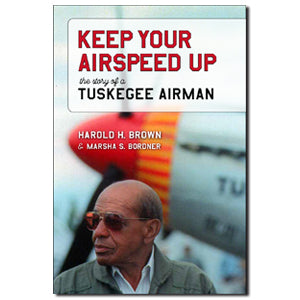 "Keep Your Airspeed Up"
Regular price $35.00 Sale
"Keep Your Airspeed Up: The Story of a Tuskegee Airman"
By Dr. Harold Brown, USAF (Retired) and Dr. Marsha Bordner
Harold Brown and his wife Marsha Bordner chronicle his life, particularly the three years he spent as a fighter pilot in the 332nd Fighter Group. Now known as the Tuskegee Airmen, Brown and his fellow servicemen battled the enemy abroad during World War II and racism at home. Brown's story runs from the first great migration through World War II to the civil rights era and into the 21st century. He completed the rigorous Tuskegee Army Flying School exam in 1942, straight out of high school. Brown recalls the pride that being a combat pilot in North Africa and Sicily gave him as well as his youthful arrogance, which caused him to get shot down over Austria. He became a POW before being liberated by Gen. Patton's forces. After stints at Air Force bases in the U.S. and Japan, he ended up at the Strategic Air Command, from which he retired in 1965. Later, Brown worked as an educator and college administrator. He poignantly recalls how he reconnected with his estranged brother, Bubba, and shares his admiration for Benjamin O. Davis Jr. and Daniel "Chappie" James Jr., two legendary black Army officers. Bordner finely records her husband's tale and it makes a worthy addition to the Tuskegee Airmen canon.